I saw this coming. Believe it or not, I have had more than one conversation with guys about leggings. There must have been some deep underground mass (hallucinatory?) male need to participate in the legging trend and it has surfaced this past week at Marni's show in Milan.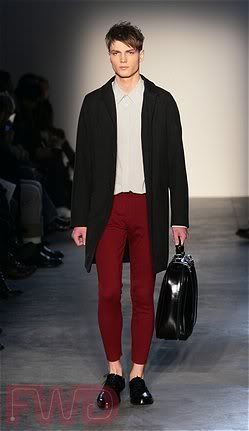 Photo Credit
I think the trick is to wear them low on the hips, have thick calves, and not to be hung like a light switch. It works on the first guy in red, but not on the second one. The poor guy looks like Brian Boitano on his way to a cocktail party.
Hm. I was involved in ballet for many years so I've seen my fare share of men in tights and tights accessories like the not-so-glamorous dance belt. These man leggings are like a step up from that. I say, why not? I personally feel like this is something some guys would be into whenever they feel they can admit that to themselves. Meanwhile, I enjoyed
FAD's
contemplation of what to name them. Mantyhose is the obvious winner.



UPDATE:


Mantyhose cause harassment for The Sartorialist for no reason.