I created this Blogger account a while back but neglected it in favor of only occasionally posting blogs on Myspace until now, of course. For some reason, most likely boredom, I've decided to grow up and try to use this real deal blog. Any interested in seeing my concert photos in their entirety, head over to imeem...it's the shit.

So what to write about for my first Blogger blog? How about the same 10 minute experience it seems half of all New Yorkers (including yours truly) went through yesterday morning?

This was me: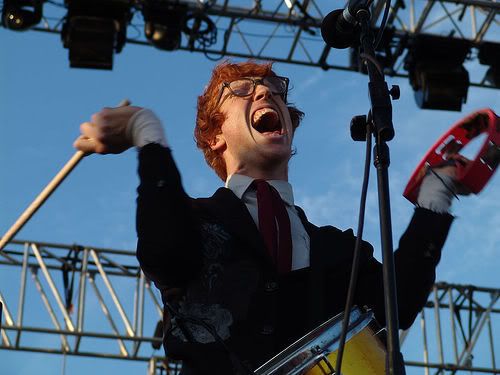 Photo Credit

That 10 minutes was wasted spent on a certain Canadian indie rock band. I would like to know who actually got tickets for one of the five sold out shows The Arcade Fire are playing in February. So far I've only read about my experience of waiting in the "virtual waiting room" only to discover it was all sold out. Because The Arcade Fire care so much, only 2 tickets were available per purchase and resale is not allowed through ID enforcement meaning that people on both sides are now looking for hot dates. I like how in order to avoid profiteering, they have turned to what is basically prostitution. Here's a little advice to the people organizing this five-day extravaganza whether it be the band, the venue, etc: If you want to make sure the right people get tickets to your show (meaning fans and music enthusiasts over brokers, scalpers, and run-of-the-mill douche bags) put tickets on sale when you announce the show instead of letting the über hype build up over a few weeks. That way the people who hear about it first (aka the "right" people) will get tickets. Also do not use this new retarded tickets.com with its virtual slitting-my-wrists room. Not allowing resale of tickets is a good thing but would be even better if you had announced that BEFORE the tickets went on sale. Live and learn (and get Luvs you stupid babies)!

Moving on to a similar item, Bloc Party tickets went on sale this morning...but what's this?! Assigned seating? Ticketmaster? Try no. Sorry Bloc Party, I'll try and catch you at South by South West, instead.