Franz Ferdinand
Last night was ROUGH! My neck hurts so bad from being front and center for not one...not two...but three amazing performances from UK's finest. That sounds like I'm not complaining, but I am. My neck hurts so bad right now. I'm going to cry.
Franz Ferdinand kicked the night off at The Bowery Ballroom. They were good fun. I must say that I never understood why people found Alex Kapranos so attractive, but now I do. Man's got sass. I only knew two of the songs they played. I'm sure there are thousands upon thousands of die hard Franz fans around the world who want to kick my ass knowing that I stood mere feet away from these Glasgow gods of theirs. I should really just rename this blog to "I'm Sure You Want to Kick My Ass".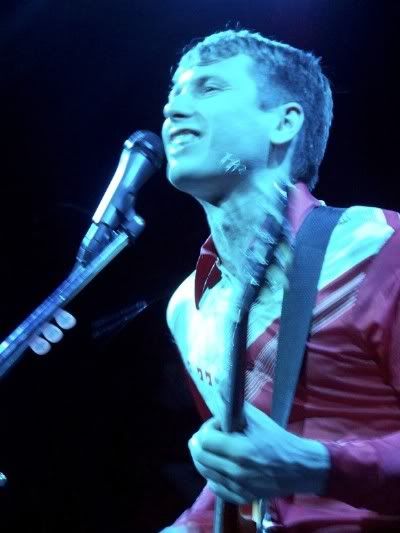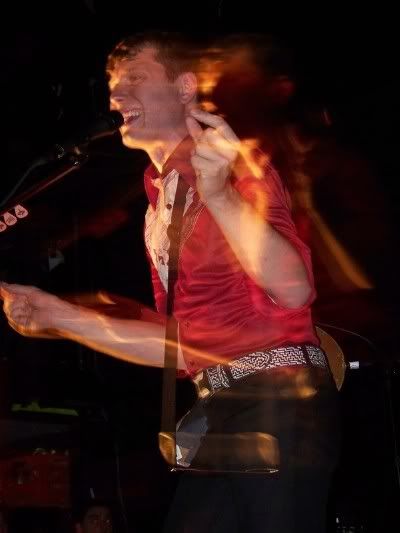 Franz Ferdinand
After their set, I piled into a cab with a bunch of crazy girls to jet down the the Knitting Factory. I walked in the door at the same moment The Pigeon Detectives walked on the unlit stage.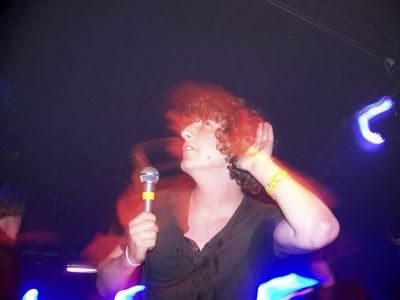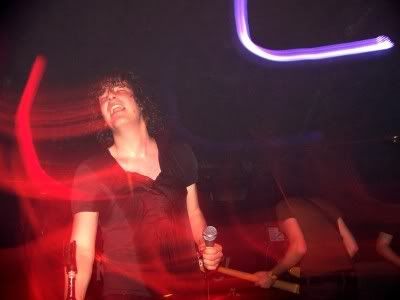 The Pigeon Detectives
They were amazing. The stage there is so small and it was a completely different experience from seeing them in Austin a few months ago. They're so unknown in America and don't have a record label here which is a shame because they're really a head above a lot of the same old UK bands in terms of their live shows and quality of their songs. What I mean to say is I likes 'em! And after an endless night of upbeat Brit tunes, their songs are the ones still stuck in my head this morning.
The Rakes
The Rakes were the headliners at this show. One look at Alan's wrist told me he had been at The Bowery Ballroom earlier that night too. The Rakes are another fantastically underrated UK band. Kill the sound guy at The Knitting Factory for drowning out the vocals with way too much bass the entire show. I was jazzed to see them play but by this time, my neck was already killing me and I was standing next to
drunk girl
. It was that girl who my mom always warned me never to become and after a few minutes I was sworn off of alcohol all together. Click the captions for all the pictures.