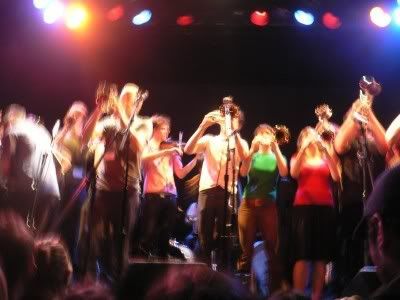 Beirut
Last night at Bowery Ballroom was one of my favorite concerts I've ever been to...that's saying a lot...in the top five for sure. My pictures are all up on my Flickr. As soon as I walked in I saw Ed Droste, reminding me of the last really great show I went to. Ah memories. But I couldn't bare to say anything to him because I'm using parts of 'Marla' on the soundtrack for my experimental film I made at school. I'm sure he would really love to know that...only not. I learned that The Arcade Fire were also there when some of them played on stage with Beirut for the encore. So I finally got to see the Arcade Fire! If that wasn't enough indie name dropping already, Sufjan Stevens was there too, but I didn't see him...good thing or I might be dead on the Bowery floor right now if I had.
Final Fantasy
Final Fantasy opened and set the bar high. I've only listened to him on my iPod before, so seeing how he creates his one-man orchestrations live was amazing. A projection artist created things on stage as he played. It was really a beautiful set. Beirut came on with their horns for the last song and it was the first extreme high point of a show filled with them. This makes me sound like a total wussy but I was close to crying. WUSSY! But still...wow.
Beirut
Zach Condon is trying to make up for every slacker kid my age by being scary kid genius my age. It's hard to believe that Beirut's music does not come from a wised old man far beyond my age and experience, not some American kid who just turned 21 like me! Recently I've been on a really big Eastern European/Balkan kick, listening to anything from Boban Macovic to Leningrad, and Beirut has been the greatest nurturing source to that kick. I feel like seeing them live last night filled me up with enough happy to run off of for a long time.

Having gone out every night for the last week...month...or so...I decided to take my joy and go to sleep. On my way I walked right into Zach and briefly thanked him for the amazing show. I'm pretty sure I said the word "amazing" to him a dozen times in thirty seconds. It was.
Seemed that most of the audience had a similar appreciation. At one interval between songs, a woman shouted out, "Never stop!" and then the quote of the night, "Stop tuning!" A world where Beirut's music never stopped playing for a moment seems ideal and certainly the one I'm in now, for it's been playing in my head even as I sleep.